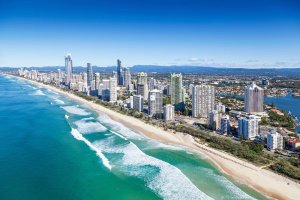 There is never a dull moment in Surfers Paradise on the Gold Coast. The suburb is home to many family-friendly attractions, exciting events, one-of-a-kind experiences and more.
If you want to enjoy them all this school holiday, why not gather the entire family and plan your visit. You need to know where to stay for easy access to everything you want to do so that you can thoroughly enjoy your Surfers Paradise trip.
Think about staying at Trilogy Surfers Paradise. Their trio of sleek and contemporary Gold Coast self-contained apartments is in peaceful Budds Beach, just moments from central Surfers Paradise, where you can enjoy the following attractions.
Surfers Paradise Beach
Summer school holidays are ideal for surfing the world-famous Surfers Paradise Beach. Swim and surf along the expansive beaches patrolled by three lifeguard towers. Do you want to learn how to surf? There is a nearby surf school that specializes in daily beginner surf lessons.
Beachfront Markets
Surfers Paradise Beachfront Markets first opened its doors in 1995. Along with the famous Surfers Paradise Esplanade, it has since become an iconic shopping and cultural experience. The market is committed to promoting and supporting the best local and international growers, makers, characters, and creators.
You'll find artisan and iconic Australian goods, seasonal produce, gourmet food, handcrafted wares, and more. Also, there is plenty of street parking and entertainment. Visit Surfers Paradise Beachfront Markets at The Foreshore, Surfers Paradise, every Wednesday, Friday, and Saturday from 4 pm to 9 pm.
Timezone & Zone Bowling Surfers Paradise
Timezone Surfers Paradise features the most recent arcade games and a massive Winner's Vault filled with tons of fabulous prizes. Not only that, but a variety of exciting activities are available, including Laser Tag, Mini Glow in the Dark Golf, Mini Bowling, Bumper Cars, and VR rides.
After a fun game at Timezone, go next door to Zone Bowling. It has 12 visually interactive bowling lanes and a large café and dining area. Are you hungry? Energize with some tasty snacks and drinks to keep your gaming energy up! Adults will not be left out! There is also a fantastic cocktail menu.
Skypoint
Have you seen Australia's tallest structure? This iconic structure houses the SkyPoint Observation Deck, where you can enjoy panoramic views of the Gold Coast, a delicious meal at the Gold Coast's highest Bistro+Bar, and an adventurous climb.
Face your fears and have fun on the SkyPoint Climb. Participants will then proceed to the eagles' nest at the highest point of the Climb, approximately 270 meters above the ground. You will be stopping once in a while to take in the breathtaking 360-degree views of the Gold Coast, its golden beaches, city skyline, and lush green hinterland.
Slingshot Gold Coast
Are you looking for another exciting adventure? The new slingshots have arrived. The Slingshot is a two-person capsule that propels riders through the air via steel cables. Riders will feel weightlessness, rapid side-to-side movement, and rapidly changing forces. Shoulder harnesses with a safety belt between the legs secure each rider over the head and chest. Visit Slingshot Gold Coast at 32 Cavill Ave, Surfers Paradise.
Infinity
Explore 20 futuristic maze-like environments with the tribe on a multi-sensory journey through Infinity. You'll enjoy the special effects, optical illusions, breathtaking soundscapes, and atmospheric aromas. Infinity is perfect for the whole family.
Ripley's Believe It Or Not
At Ripley's, embrace the unusual by marvelling your way through 12 galleries and over 300 oddity exhibits. A 7D moving movie theatre also transports you to an interactive video game-like world. You can also compete for the highest score with your family.
Quack'r'Duck
To provide the best Gold Coast sightseeing tour, Quack'r'Duck have created a unique land and sea experience with their modern, environmentally friendly amphibious vehicle, the Quack'rDuck duck bus. The special 1-hour sightseeing adventure takes you and your family on a stunning land and sea tour of Surfers Paradise like no other.
During the tour, you'll venture through some of the roads surrounding the main attractions of Surfers Paradise. You'll then drive down a boat ramp, splashing into the water where your duck bus seamlessly becomes an incredible duck boat! As you sail through the Gold Coast canals and the Broadwater, you'll experience some of the best sights that Surfers Paradise has to offer. This is the ultimate land and sea adventure suitable both adults and children, so bring the whole family!
Save 15% Off Exclusive Travel Deal
Get ready and book your Surfers Paradise family accommodation right away. Trilogy Gold Coast offers an exclusive travel deal that saves you 15%. This offer is only valid for direct website bookings using the promo code "TRAVELDEAL" and is subject to availability.
Last chance to book. Make your reservation today!