Posted in
Accommodation
@
Feb 24th 2014 1:38pm
- By Administrator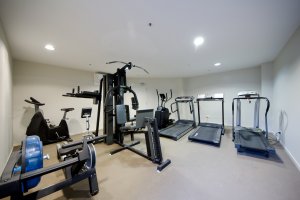 There is no excuse to not get fit while you're in our Budds Beach Acccommodation.

You can still continue your health and fitness regimen even while you're in vacation in our accommodation.

Simply head to our gym and enjoy an intense of mild workout. Our gym is filled with the modern equipments you need to strengthen your muscles and build up your endurance.

If you prefer an engaging sports-related exercise, you need not go far as we also have a Heated Swimming Pool. Burn off any excess calories you may have by going for a swim before the day starts or after a full day exploring all the Gold Coast has to offer.

After a swim, feel free to relax in our Spa. Feel its revitalizing bubbles and discover your stresses disappear.

If you want to exercise amidst the beauty of nature, you easily can because our Budds Beach Accommodation is within proximity to Surfers Paradise Beach. Stroll, jog, walk or run by the surf.

If you want to relax after a strenuous activity, Nerang River is nearby. Go on a swim or simply cool down.

You can also proceed to the Gold Coast hinterland for a one-of-a-kind adventure. Take in the lush and cool greens of the rainforest.

Then, head back and to our resort and give yourself a much deserved break.

We like to consider ourselves as your home away from home. After a full day of fun exercise, our accommodation warmly welcomes you with open arms.

You have no reason to delay the start of your stay.

We provide you with all the facilities necessary to continue your fitness regimen even while you're on holiday.

Book with us now by going to http://trilogygoldcoast.etourism.net.au/.