Posted in
Local Events
@
Jan 14th 2019 3:01pm
- By iLaunch Support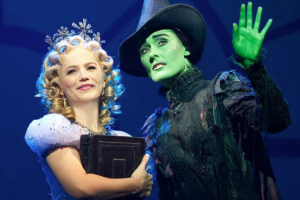 Wicked is the incredible untold story of an unexpected but deep friendship between two girls who first encounter each other as sorcery students at Shiz University. The blonde and popular Glinda and the misfit green girl called Elphaba.

Upon meeting The Wonderful Wizard of Oz, their friendship reaches a point that leads them to separate paths in life. Glinda's earnest desire for popularity leads her to be tempted by power while Elphaba's will to be true to herself leads to unforeseen yet dire consequences for her future.
Their fantastic adventures in Oz will gradually lead them to find their destinies. This is the story of how they grew to be known as the Good Witch and the Wicked Witch of the West.
Catch Wicked at Home of the Arts from June 25 to July 6. Our Gold Coast Self Contained Apartments are close to Home of the Arts.
Our one bedroom apartment features a study area. The fully equipped kitchen has complete kitchen equipment. Separate laundry facilities make it convenient to do the wash. Spacious balconies let in the cool breeze. Use our WiFi to stay up to date.
We also have one bedroom apartments and two bedroom apartments for more prominent groups.
If you're travelling with your loved ones, you'll find our apartments comfortable. Enjoy the fully furnished apartments and feel at home.
We also have guest facilities. The heated swimming pool is quite relaxing as well as the spa and sauna. Stay in shape and exercise in the gym. The games room has fun games.
The Gold Coast has tons of attractions the whole family will enjoy. Head over to the beach and enjoy swimming and stand-up paddling. Surf in the early hours of the morning. See the gorgeous sunset and take a soothing stroll.
For booking information, please visit https://www.trilogygoldcoast.com.au/apartments