Posted in
Accommodation
@
Jan 15th 2020 3:27pm
- By Administrator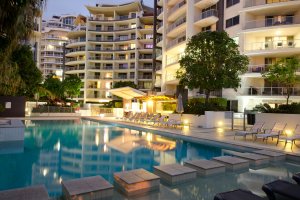 Queensland is a popular travel destination for visitors from interstate or international locations, and it's not hard to understand why. The predominantly sunny days, warm weather, mild winters, and picture perfect location has a lot going for it. South East Queensland is particularly popular, with lower humidity and safe swimming in beaches, creeks, rivers, and rockpools.

The Gold Coast might just be one of the ultimate Queensland locations to explore if you are planning a Queensland holiday, but you'll want to consider a few things before you start booking your accommodation, tours, transfers, and flights. Check out our tips for planning the best Gold Coast holiday and you'll make memories to last a lifetime that goes off without a hitch!
Choose your attractions
It makes sense to look at the wide range of local attractions on the Gold Coast and to make plans based around the location, accessibility, and requirements of each. Do you need to plan to arrange a rental car, or will you take advantage of public transport such as the tram lines, trains, buses, or even jumping in a taxi or Uber?

Are the attractions you want to see in close proximity, or are they spread apart around the Gold Coast? Would you prefer to be able to access plenty of local restaurants, cafes, shops, beaches, and attractions within walking distance? Do you want a location that is quiet and secluded or right in the heart of all the action?

Start by narrowing down locations on the Gold Coast that would make experiencing the best tourist hotspots on the coast a breeze to access and enjoy, and then you can look at what it is that you need to make your stay enjoyable, comfortable, and stress free.
Choose your requirements
Think about your travel companions, and what it is that will make your holiday stay not just comfortable, but more enjoyable. Are you travelling solo and want convenience of meal delivery, business services, accessibility to event venues or business centres, or unlimited high speed WiFi? That's a very different set of requirements to a family with three kids that want a swimming pool, full kitchen for preparing family meals for fussy eaters, and the ability to walk to the beach and parks, and laundry facilities.

Carefully consider what it is that would make your stay more convenient, make your life easier, and ensure that you make the most of your stay. You have narrowed down the Gold Coast locations that would work, so now you can start researching and find holiday accommodation that fits your holiday budget and offers all the facilities, features, and accessibility that you are wanting.
See what others have to say
If you are finding that many of the holiday apartments look pretty great, multiple options offer the features you desire, and you just can't decide between them, one fantastic strategy is to check out the reviews from other guests that have stayed there before you. Take advantage of the experience of others and save yourself from a disappointing stay by looking for holiday accommodation with positive reviews and recommendations.

There are a few ways to check what other people are saying these days. The most obvious option is to check the reviews page on the accommodation website, and then you can view what others have commented on Tripadvisor, Facebook Reviews, or Google Reviews. Another way to see what others have experienced on their stay is to check social media check ins, search for hashtags, or ask friends and family for recommendations from their Gold Coast holidays.
Start planning early
While sometimes grabbing last minute booking can work in your favour, you may find that there is a shortage of availability or that stay rates are higher during peak periods. Booking well in advance could help secure early bird rates, better apartment options, or extra perks. Check out the holiday apartment website for stay rates & availability, or call the accommodation providers in person and enquire about any upcoming specials, early bird offers, or added inclusions.

Many holiday apartments offer tour desk services such as advice, discounted tickets, transfers, or tours and more. The managers may also be able to recommend local attractions that Google might not offer, or tips on making the most of your stay. While in this digital age you can get so much information online, sometimes a 5 minute conversation with a real person with real local knowledge can actually offer so much more.
Consider Trilogy Surfers Paradise for your stay
Self contained, spacious, and luxuriously finished, our range of one, two, and three bedroom plus penthouse self-contained holiday apartments offer everything you are looking for to make your Gold Coast stay both comfortable and enjoyable.

With ocean or river views, a heated swimming pool, spa, sauna, gym, theatre/conference room, and free WiFi you'll have everything you need right at your fingertips. Ideally located on Cypress Avenue, you are just a short stroll from the famous Budds Beach and 5 minutes from the heart of Surfers Paradise and all the exciting attractions, world class shopping, and top rated restaurants, cafes, bars, pubs, and nightclubs.

Find out what our guests say about a stay at Trilogy here.