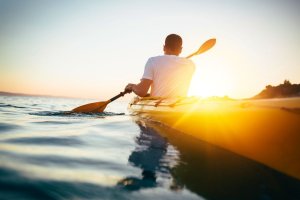 Tours make planning easier by taking care of all the specifics for you. They arrange transportation and provide information and lovely stories on the locations you'll be visiting. They're also a fantastic way to meet new people.
Why not take some day tours on your next Surfers Paradise holiday! Are you ready for an adventure while staying with us at Trilogy Gold Coast?
Surfers Paradise Sunset Kayak Adventure
Kayaking and sunsets are two of life's greatest pleasures. Kayaking brings you closer to nature and reduces anxiety while watching the sunset provides a sense of tranquillity and peace. The Surfers Paradise Sunset Kayak Adventure is a great way to get a taste of these things.
This breathtaking experience brings you to the stunning Gold Coast waterways and unimpeded views of Surfers Paradise's beautiful sunset skyline. Expect a never-ending rainbow of purples, pinks, reds, and oranges.
The Sunset Kayak Adventure departs at Budds Beach in Surfers Paradise and returns there. Your friendly and skilled tour guide will teach you how to kayak before you embark on your journey. When you're ready, relax and enjoy as you kayak past the mansions of the wealthy and famous. You'll also kayak to Macintosh Island, taking photos with local peacocks. Then, while out on the ocean, take in the stunning Surfers Paradise skyline.
Aquaduck River Cruise & City Tour
The kids love this one! Have you ever taken a ride in an amphibious vehicle? It is a vehicle that can be used both on land and in water. Riding the famed amphibious 'Duck' vessel with its enormous yellow beak on an Aquaduck River Cruise & City Tour, on the other hand, will be enjoyable and exciting.
The City Cruise
In 1996, Australia's first amphibious Gold Coast city tour and River Cruise began. Their amphibious vessel, the 'Duck,' is a well-known Gold Coast icon. Their excursions leave from Cavill Avenue and include a live commentary on board. You will learn about the history and landmarks of Surfers Paradise as you go around the esplanade and visit one of the world's most famous surf breaks. As you make your way to Broadwater to begin the waterways cruise portion of the tour, you may see celebrities at one of the many cafés along famous Tedder Avenue.
The River Cruise
Prepare to be delighted as the Aquaduck transforms into a boat, and your Gold Coast river tour begins when you arrive at Broadwater. Because the Aquaduck features a unique seating plan, you won't have to worry about the views. Once you're on the water, the vehicles provide greater space for standing and moving around. You'll love cruising by the glittering waterfront houses of the rich and famous and taking in the breathtaking Gold Coast waterways and Broadwater, home to iconic attractions and natural animals.
Kids Get To Drive
Aside from the city tour and water cruise, your kids will also have the opportunity to drive the Duck on the water. But that is not all! Your kids can take home their own Captain's certificate. What are you waiting for? Go aboard the Aquaduck when you visit Surfers Paradise.
Half-Day Dolphin and Stradbroke Island Tour
If the tour mentioned above has piqued your interest in water, how about an island tour? The half-day Dolphin and Stradbroke Island Tour includes a superb continental breakfast on the beach and a kayaking lesson. When you're ready, you can go for a paddle around the Gold Coast's calm seas, where you might see dolphins, turtles, and stingrays.
Two remote islands will also be visited. You'll love snorkelling at Wavebreak Island because the area is home to hundreds of subtropical fish. The Swamp Faced Wallaby, which can only be found on South Stradbroke Island, can also be seen. If you book this tour, they can arrange to pick you up at your Surfer Paradise accommodation.
Gold Coast Hot Air Balloon Ride
You already have an idea for a land and water adventure. It's now time to conquer the air. Balloon Aloft, proudly flying the Gold Coast skies for 30 years, is the absolute greatest way to experience Queensland's gorgeous Gold Coast.
They have an excellent team of nature and adventure lovers that have crafted the perfect ballooning experience for you. Their Hot Air Ballooning packages include free return transports from any Gold Coast location between Southport and Broadbeach for you and your group.
They offer a 60-minute hot air balloon ride with complimentary photography, which is already a fantastic experience. For one hour, you will be able to see the magnificence of the Gold Coast. They also offer a 60-minute balloon flight and a 5-star champagne breakfast if you wish to level up your experience. Enjoy a 60-minute breathtaking balloon ride while drinking chilled Champagne and feasting on a sumptuous 5-star breakfast.
Gold Coast Heli Tours
A heli tour is another way to see the world from above. Gold Coast Helitours is the best choice for experiencing the amazing landscapes Gold Coast offers. They have three decades of experience, a 100% safety record and a unique assortment of Scenic Flights.
There are seven tours to choose from, ranging from 5 minutes to 45 minutes. Each trip also takes you to specific locations, beginning and ending at the Mirage Heliport. You can see the Main Beach, Sea World, Broadbeach, Surfers Paradise, and more from above. On their scenic flights, they may accommodate a couple or a group of six people.
Are you prepared to pick your adventure? To make things easier, make sure you have a place to stay. Choose Trilogy Surfers Paradise for the best accommodation. The Surfers Paradise family accommodation is a trio of sleek and contemporary holiday Gold Coast self-contained apartments near Budds Beach and central Surfers Paradise.