Posted in
Local Events
@
Apr 13th 2015 1:17pm
- By Administrator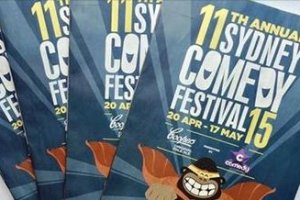 After a stellar 2014 show, the Sydney Comedy Festival Showcase will be tearing up the freeways of Australia again and returning to Gold Coast to present the crème de la crème of the 2015 Festival right on your doorstep!
Boasting a line-up of the best local and international comics and showcasing some of the funniest and freshest emerging talents, you will be left sore from belly laughs due to this jam packed night of pure entertainment!
2014 saw the Showcase put smiles on the faces of over 15,000 people in more than 45 regional and metropolitan centres over a huge 5 month tour and 2015 is set to be the biggest tour so far!
So call your pals, book the babysitter and grab your tickets to the funniest night of entertainment you will see all year!
"A very lucky audience was brought to tears, to fits of laughter courtesy of the Sydney Comedy Festival Showcase..." - AU Review
Recommended for mature audiences 15 years and over. May contain coarse language and adult themes.
Enjoy Sydney Comedy Festival Showcase on July 31, 2015 at 8pm at Paradise Room, The Arts Centre Gold Coast.
If you are planning to watch this event, you may want to book our Surfers Paradise Family Accommodation. Our resort is just minutes away from The Arts Centre Gold Coast.
We offer a great selection of one bedroom, two bedroom and three bedroom apartments. Our apartments are fully furnished and complete with everything you will need. Amenities include air conditioning, a gourmet kitchen, a large balcony, cable television, one bathroom, separate laundry facilities, wireless internet access, complimentary Pay TV, and more.
Aside from our apartments, we also have guest facilities for your comfort and convenience. The guest facilities include a heated swimming pool, spa, gym, games room, theatre/conference room, barbecue facilities, wireless internet and secure parking.
For booking information, please visit http://trilogygoldcoast.etourism.net.au
Image Source : The Sydney Comedy Festival