Posted in
Local Events
@
Feb 13th 2019 4:59pm
- By Administrator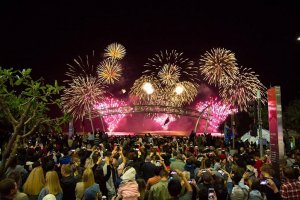 Winter starts with a blast at SeaFire! This year, Australia's sole international fireworks competition comes back to the famous Surfers Paradise Beach for two nights only. Commemorate the exhibition of pyrotechnics with a night of mesmerising performance, and exciting fireworks brought to you by the world's best pyrotechnic designers.

On the 31st of May, teams from USA, New Zealand, and South Korea will compete over the Pacific Ocean to tens of thousands of people. Then on Saturday 1st June, ruling champions The Philippines will defend their title.

The international teams will battle against each other with each group being given 10 minutes to showcase their top and most impressive display.

For two nights, visitors will get to see three firework displays in succession, fired from three barges anchored just beyond the breakers and exploding in time to favourite music soundtracks, which are broadcasted on a major radio station.

Join us for SeaFire, a greatly-anticipated event of the Gold Coast winter calendar. Enjoy a memorable experience r=here in Surfers Paradise.

Catch Seafire from May 31 - June 1 at Surfers Paradise Beach.

Our Budds Beach Accommodation is close to Surfers Paradise Beach.

Our one bedroom apartment with a study is excellent for couples and business travellers. The apartment contains a study area, separate laundry facilities, a fully equipped kitchen, living area, air conditioning, master bedrooms, wireless internet access, complimentary pay TV, large private balconies, and more. Feel the cool ocean breeze from the balcony. Cooking warm and tasty meals in the kitchen is easy. Use our WiFi to stay in touch with friends.

We also have other apartments such as the one bedroom apartments, two bedroom apartments, and three bedroom apartments. Our apartments are wholly furnished and perfect for travellers. Make your holiday special here on the Gold Coast.

For more details, go to https://www.trilogygoldcoast.com.au/apartments.