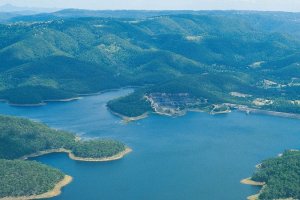 Looking for a warm Spring getaway but can't think of anything worse than hitting the popular tourist hotspots? If you love a little adventure with a twist, or want to escape the crowds and see something out of the ordinary, you'll be happy to hear that there are plenty of incredible places to explore that are a little off the beaten path.
Mount Tamborine
A short day trip out from the coastline you'll find an idyllic and fascinating spot that is as unique as it is picture-perfect. Mount Tamborine has something for everyone, from beautiful sunset views and quaint little cafes and restaurants to winery tours, distillery visits, or a stop by the brewery.

You can immerse yourself in nature with the rainforest skywalk, or take on the TreeTop Challenge. Thunderbird Park is a day in itself with high rope courses and ziplines, fossicking, horse riding, laser skirmish and mini-golf, plus bird feeding and nature walks!

You won't want to miss stopping by the glow worm caves, Australian Outback Opals, or the beautiful botanic gardens. You will be truly spoiled for choice when it comes to a Mount Tamborine visit out in the lush Gold Coast Hinterland rainforest.
Springbrook Research Observatory
For those of you that look up into the night sky with complete and utter fascination, you'll be happy to hear that you can visit the Springbrook Research Observatory and take a closer look. Spectacular images to peruse, and guided tours by the owner and builder of the facility, you'll get a behind the scenes peek into the incredible galaxy we inhabit.

So step away from the sandy beaches and take a look at the bigger picture through the lens of a telescope. Expand your knowledge and experience something different this Spring with the pristine views of the stars from Springbrook.
Hinze Dam
Another location that's just a short trip out from the coast is Hinze Dam. Built in 1976, you can enjoy a great coffee with a bite to eat plus iconic views out over the Advancetown Lake. This spot comes complete with walking and cycling trails, picnic areas, playground, and an interactive educational centre that the whole family will love.
The Seaway Dive Site
If you're a seasoned diver, or have always wanted to learn to dive, the beautiful Gold Coast Seaway Dive Site is a spectacular underwater playground for marine wildlife enthusiasts and adventurers. You can organise diving courses, equipment hire and dives through the Gold Coast Dive Centre or just tag along to snorkel along the coastline.

The Seaway itself is home to a plethora or wildlife species from tropical fish to eels, stingrays, turtles, and more! If you're lucky you might catch sight of a pod of dolphins playing. It's a wonderful way to spend the day and see a side of the Gold Coast that not everyone gets to experience!
Stay in Surfers Paradise
The central Gold Coast location of Surfers Paradise really has the best of both worlds with easy access to some of the best attractions, eateries, and beautiful white sandy beaches plus making your way to the national parks and natural wonders of the hinterland regions is just a short drive away.

You can browse our one, two, and three bedroom apartments and penthouse options here.