Posted in
Accommodation
@
Aug 7th 2015 10:28pm
- By Administrator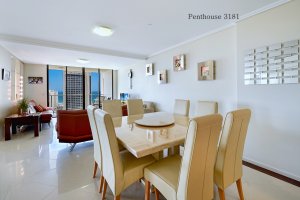 Discover the Gold Coast and book your stay at our resort. Our resort has everything you need to have a relaxing holiday. Whether you're travelling on your own or with friends and family, you'll love our resort. Our resort is ideally located on the Gold Coast. Close to some of the most popular attractions, have a wonderful holiday at our resort. Book our Luxury Apartments Gold Coast.
We offer a great choice of apartments. The two bedroom apartment feature a second bedroom with two single beds, a second bathroom, a fully equipped kitchen, separate laundry facilities, air conditioning, a living area, a master bedroom, wireless internet access, complimentary Pay TV, spacious balconies, and more. Prepare homemade meals in your very own kitchen. Take advantage of WiFi access to book tickets online. Treat yourself to the stunning views from the balcony. We also offer a choice of one bedroom apartments, one bedroom apartment with study, three bedroom apartments, three bedroom deluxe and penthouse style apartments. Whether you are travelling with your family, friends, or co-workers, we have apartments to suit your needs.
Aside from our beautifully appointed apartments, we also have guest facilities for your comfort and convenience. Our guest facilities include a heated swimming pool, sauna, spa, gym, theatre/conference room, games room, barbecue facilities, wireless internet and secure parking.
The Gold Coast is famous for its world class theme parks. Visit Sea World and see the amazing world of the deep. Get to know rare sea creatures. See penguins, dophins, seals and sharks up close. Your kids will have a blast at Dream World. The thrilling rides and attractions will keep them coming back for more.
Our resort is close to some of the most popular restaurants, cafes, bars and bistros. Grab a cup of coffee and chat with friends. After a delicious meal, grab a cup of coffee and some dessert. Enjoy a night cap at some of the bars in the area and party the night away.
For booking information, please visit http://trilogygoldcoast.etourism.net.au