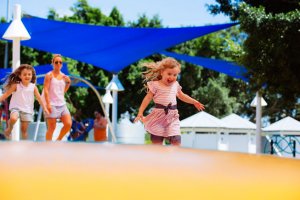 While the Gold Coast is famous for its attractions such as the world-class theme parks, wildlife parks, and water activities. Luckily for you, there are also many adventures and activities that you can enjoy in and around our Surfers Paradise location that are perfect for making quality family memories these Summer holidays.
The Botanic Gardens
The Gold Coast has some truly wonderful botanic gardens just waiting to be explored. Navigate your way through the idyllic garden scenery, stop for a picnic on the water and feed the ducks, enjoy the fantastic kid's playground and bamboo garden, and go for a stroll or bike ride along the winding pathways. It's a wonderful way to enjoy nature and let the little ones burn off some energy.
The Broadwater Parklands
It's hard to explain the sheer volume of opportunities for fun to be had at the Gold Coast Broadwater Parklands. There is the man-made rock pools and splash zone, numerous playgrounds for all ages, bike and scooter racecourse, giant inflatable bounce area, ride-on train, and sheltered swimming spot. There are often free activities and events happening, and plenty of space to play a game of catch or stretch out and relax in the sunshine.
Surfers Paradise Beach
Whether it's getting creative building sandcastles, splashing in the waves, surfing, bodyboarding, swimming, or just chilling out, the Surfers Paradise beach is world-famous for a reason. White sand and crystal clear water stretch as far as the eye can see, and the lifeguard patrolled areas ensure a safe swimming area for all.
Burleigh Heads National Park
For a short walk that's kid-friendly but packs a serious punch in terms of being visually spectacular, you'll just adore Burleigh Heads National Park. Enjoy sitting on the green grass of Burleigh Hill and watch the surfers as the sun starts to go down after trekking around the headland to Echo Beach and Tallebudgera Creek. You can also climb to the top of Tumgun lookout for incredible views of the coastline.
Currumbin Rock Pools
Let nature provide the playground with the Currumbin rock pools in Currumbin Valley. The drive is a delight and you can watch the landscape change as get deeper into the lush valley greenery. There are natural shallow pools for younger kids, and older children can test their bravery jumping from rock ledges into the deeper water. There is a BBQ area, or you can bring a picnic lunch along. It's a lovely semi-secret spot and a great way to escape the crowds and get out in nature.

To find out more about attractions near our Surfers Paradise accommodation click here.