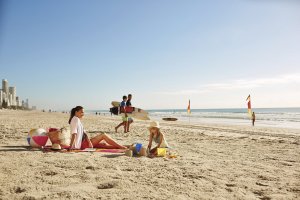 Are you considering a relaxing stay to unwind, recharge, spend time with your family or loved ones, or simply take some time for yourself away from daily life to reset? Then a stay in Surfers Paradise could be just what you were looking for in 2020.
Explore the Gold Coast Hinterland
The pristine subtropical Gold Coast Hinterland rainforest regions are a sight to behold, with your choice of secluded hiking trails, breathtaking waterfalls, rock formations, and so much more. You can head out west from the coast and a short 45minute drive will get you immersed in the natural beauty and greenery that will leave you gasping in wonder.

Whether a lovely long winding walk is on the cards, or a shorter stroll to a lookout there's guaranteed to be a bushwalk track just right for you. You can also get a little more adventurous with outdoor activities just as treetop walks and climbs, hot air balloon rides, ziplines, horse riding, laser skirmish and so much more!

You can enjoy the Springbrook National Park, Lamington National Park, Tamborine Mountain, and plenty of other great spots in the Scenic Rim. See the glow worms inside the caves at the Natural Bridge, stop by the Observatory in Springbrook and see the stars up close and learn about the universe around us.

For a relaxing day out you can head to the wineries, breweries, local restaurants, cafes, fudge shops, and markets and make the most of beautifully maintained parks and top picnic spots. There's truly so much to see and do in our Gold Coast Hinterland regions and it's such a contrast to the typical coastal style closer to the beach. For a holiday you won't soon forget make sure to include the hinterland regions in your travel itinerary.
Visit the best Gold Coast water attractions
Often the first impression of the Gold Coast involved sunny days spent outdoors with sandy toes, salty skin from swimming in the ocean or testing your skill on a surfboard, and soaking up that Vitamin D. Fun on the water is certainly a big part of Gold Coast culture, but you may not quite realise the full extent of water based outdoor activities on offer!

Imagine exploring the beautiful Gold Coast in a way you've never experienced before with an exhilarating jet ski tour, jumping on the iconic Aquaduck, or even sitting back and relaxing with a sunset cruise! If adrenaline is what you are craving then check out the choices of parasailing, taking on the GC Aquapark course, trying out stand up paddle boarding or take a surfing lesson.

You can also hire a kayak and head out for a paddle, go snorkelling or book a dive day, enjoy hours spent at sea with a fishing charter, or hope to catch sight of the majestic humpback whales during their annual migration months.

Of course families just love the Gold Coast Water parks, with Wet 'n' Wild and White Water World being hugely popular in the warmer months, and the splash zone at Seaworld a great spot for kids to cool down after a big day of riding roller coasters and learning about marine wildlife.

No matter which of these options tickles your fancy, enjoying some time in or on the water is a wonderful experience for Gold Coast visitors and one of the biggest draw cards for tourists looking to plan their next adventure.
Australian culture and wildlife
If you are visiting Australia from overseas you might be wondering what the Gold Coast has to offer in terms of enjoying Aussie culture and getting up close and personal with native wildlife. Luckily there is no shortage of options for international tourists to enjoy.

Outback Spectacular is hugely popular, and introduces spectators to the wonders and storytelling of the Australian outback with a show that is as visually stunning as it is entertaining. Paradise Country is your look into the lives of Australian life in the outback as you immerse yourself in the traditions and ways of life of Australian farm living. Herding sheep, making damper over the fire and brewing tea in the billy, mustering, sheep shearing, and of course surrounding yourself with beautiful wildlife is all just part of the parcel.

Dreamworld Corroboree is a wonderful way to learn more about Australian aboriginal culture and traditions. Kids can get their face painted, families can enjoy music and dance, and then you can visit the animal enclosures and see massive crocodiles, koalas, kangaroos, dingoes, emu's and so much more.

Currumbin Sanctuary is a must for Gold Coast visitors. Recently upgraded with more animal enclosures and experiences, you'll learn about wildlife conservation and the natural behaviours and instincts of the wildlife around us. You can also explore the Gruffalo Trail, go hunting for life sized dinosaurs, feed kangaroos, and ride the train to see the park as you sit back and enjoy the view.

If learning more about Australia is on your must do list for your Gold Coast stay, there are so many options for immersing yourself in learning more. The only problem will be decided which to do first!

When you are looking for comfortable self contained holiday apartments for your stay, don't look past Trilogy! Check out our range of apartment options here.