Posted in
Local Events
@
Jun 13th 2015 11:44pm
- By Administrator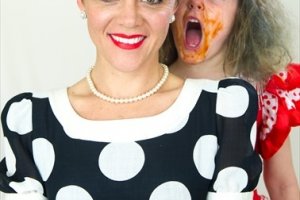 On August 28, 2015, enjoy Em Rusciano at Arts Theatre, The Arts Centre Gold Coast.
Here's what the critics have to say:
"Em Rusciano is an irrepressible force of nature." Rip it up
"Eccentric and energetic" - Scenestr
"All the wit, warmth and charisma in the world." - Herald Sun
How do you sum up this extraordinary show? This show's kinda like that clip Beyonce did with Blue Ivy, only with more C-bombs, more references to extreme toilet paper usage, and no attempt whatsoever to hide marital difficulties. Not to mention, there will be a John Farnham sing-along. Yes, you heard it right, there will be a John Farnham sing-a-long. Accompanied by her long suffering Father Vincie, Em will rip through your heart and not let go. If you've had a Mother, then this show is for you. The show will hit close to home. You won't be disappointed. Imagine all the love of a Celine power ballad combined with snot and loneliness. See the world through her eyes from parenting in the 80's to her hatred of the Disney Musical Frozen, The Motherload will leave no stone unturned.
Save the date on Friday 28 August at 8.00pm at Arts Theatre. Tickets cost $38.70.
If you are planning to go to this event, you'll be glad to know that our Budds Beach Accommodation is just a few minutes away from The Arts Centre Gold Coast.
We have one bedroom apartments that are perfect for small families and business travellers. Apartment amenities include air conditioning, a gourmet kitchen, laundry, large balcony, cable television, wireless internet access, and more.
Aside from the one bedroom apartments, we also have one bedroom apartments with study, two bedroom apartments, three bedroom apartments, three bedroom deluxe and penthouse style apartments. Whether you are travelling with a small group or a large group, we have apartments to suit your needs.
For booking information, please visit http://trilogygoldcoast.etourism.net.au