Posted in
Local Events
@
Feb 11th 2015 4:21pm
- By Administrator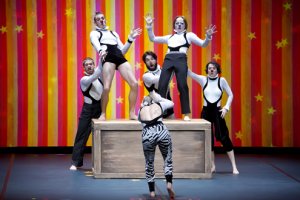 From April 30 to May 2, 2015, enjoy Carnival of the Animals at Arts Theatre, The Arts Centre Gold Coast.
The Circa Carnival comes to town with whimsical tales of creatures of land and sea, who tumble, fly, leap and spin their way through the many wondrous worlds of the animal kingdom. Our zebras juggle and flip... Our kangaroos skip and somersault...We've elephants with street-cred and rhythm... And even our dinosaur bones shake, clatter and roll to the music.
Carnival of the Animals whisks you away on a thrilling circus escapade inspired by Camille Saint-Saëns' delightful salute to feathers, fur and fins. Circa's acrobats bring this classical music suite to life for a whole new generation of circus, music and animal lovers.
If you are planning to watch the show, you may want to book our Gold Coast Self Contained Apartments. Our apartments are just a few minutes away from The Arts Centre Gold Coast.
We have one bedroom apartments, one bedroom apartments with study, two bedroom apartments, three bedroom apartments, three bedroom deluxe and penthouse style apartments. So whether you are travelling with a large group or a small group, we have apartments to suit your needs. Perfect for families, friends and business travellers, our apartments are the ideal holiday accommodation.
The apartments are fully self contained and complete with everything you will need to have an enjoyable stay. The apartment features fully equipped kitchens, separate laundry facilities, living area, master bedrooms, wireless internet access, complimentary Pay TV, spacious balconies and more. Prepare delicious homemade meals in the kitchen. Stay connected to family and friends using our WiFi.
Aside from our fully furnished apartments, we also have fine guest facilities. Our guest facilities include a heated swimming pool, a sauna, a spa, gym, theatre/conference room, a games room, barbecue facilities, wireless internet and secure parking.
For booking information, please visit http://trilogygoldcoast.etourism.net.au