Posted in
Local Events
@
Oct 5th 2014 1:02am
- By Administrator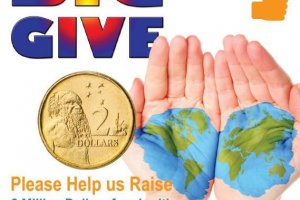 This November, head over to Surfers Paradise Beach and enjoy Big Give 2 Fireworks and Monster Trucks Spectacular.
Surfers Paradise celebrates (GIVE2DAY) and our passion for charitable giving with Childs Vision BIG GIVE 2 Australia Appeal, a night of, thrilling fireworks, hypnotic dancers, singers on the back of the monster truck, and much more at Surfers Paradise Beach.
Your Mission! Register on Big Give2 Everyday Charity Fundraising Website. Donate your $2.00 and then get 10 friends to do the same. Be a part of Big Give2 by joining with us at Surfers Paradise Beach with City of GoldCoast, GOLDFM and Childs Vision. Bring your $2.00 coins and money boxes to help us fill the Childs Vision BIG GIVE 2 Thermometer on the night. Watch Queensland's greatest pyro under the night stars on the beach, lighting up Surfers Paradise with fireworks.
Come and check out the amazing monster truck. There will also be dance music and amazing singers to add to the night. Down at sea level, dancers will light up the beach with acrobatics. See the Surfers Paradise beach light up like never before! Everyone loves Charity; fireworks, monster trucks, Surfers Paradise beach, dancers and singers. Putting them all together makes a fun filled night for everyone whilst helping children and families suffering hardship.
Remember to bring your $2.00 to drop into the Childs Vision BIG GIVE 2 Thermometer or Register your personal fundraising page before you come to see how much you can raise by going to www.biggive2.org/australia
Don't miss Surfers Paradise Beach - Fireworks and Monster Truck Spectacular on November 7, 2014 at Surfers Paradise Beach. Help out a good cause and have heaps of fun as well. This event is suitable for all ages. Everyone is welcome to join.
We offer a choice of one bedroom apartments, one bedroom apartments with study, two bedroom apartments, three bedroom apartments, three bedroom deluxe and penthouse style apartments. Whether you are travelling with a small group or a large group, we have apartments to suit your needs.