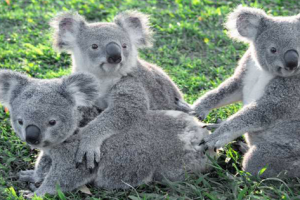 Enjoy visiting these animal sanctuaries and learning more about animals. See koalas, sheep and other animals in their natural environment. Get to interact with them and find out how you can help with animal conservation.
Lone Pine Koala Sanctuary
Known as the largest koala sanctuary, Lone Pine Koala Sanctuary has 130 koalas. The sanctuary has gotten rave reviews from tourists. It is one of the must-see attractions if you're on the Gold Coast. Get to see 100 species of native animals up close. Interact with them first-hand. Learn about their habits and hand-feed koalas and kangaroos. Lone Pine has other animals such as lorikeets, platypus and many others.

Take a break in the middle of exploring and drink some coffee at 'Koala Forest'. Enjoy your coffee in the company of koalas. Other excellent attractions include the Free Flight Raptor Show and the Sheepdog Show.

There is free WiFi and guest amenities to make your time convenient and comfortable. Explore Lone Pine Koala Sanctuary and spend precious time with the koalas. Lone Pine is located at 708 Jesmond Road, Fig Tree Pocket QLD.
Paradise Country
Get a taste of farm life. Paradise Country offers the farm experience. It's popular among families who want their kids to step outside the box and learn about life in an Aussie farm.

Watchdogs and stockmen in action as they round up sheep. Interact with stock-horses and see them at work. Try refreshing billy tea. See a sheep shearing display and see a Ram Parade. This is an eye-opening experience you won't soon forget. Paradise Country is at Production Drive, Oxenford QLD.

Our luxury apartments Gold Coast is nearby. We one bedroom apartments which have a kitchen, WiFi, a balcony, air conditioning and more. Spend a fun holiday on the Gold Coast and visit these attractions that are uniquely Australian.

To find out more, visit https://www.trilogygoldcoast.com.au/apartments.