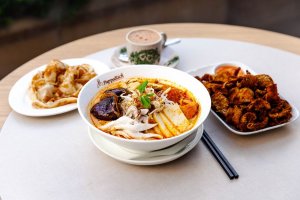 Are you planning a stay at our Surfers Paradise holiday apartments and wondering about the best local eateries? Lucky for you, there are some wonderful spots to grab a bite to eat that are just a short stroll away. Check out why foodies will be delighted by a stay at Trilogy Surfers Paradise.
PappaRich
Enjoying Malaysian food that is both authentic and mouth-watering is a great way to enjoy the evening after a big day of Gold Coast exploration. Tantalise your taste buds with a stop by PappaRich at Chevron Renaissance and delight in their comprehensive menu packed with all of your favourite signature dishes.

Whether you opt for a roti, dim sum, rice, or noodle dish, or you decide to indulge in a shared plate, you'll be glad that you stopped by PappaRich. The family-friendly atmosphere and wonderful service will be the icing on the cake for your wonderful Malaysian dining experience.
Chiangmai Thai
Are you craving a Thai green curry, a zesty stir fry packed full of aromatic spices, or a shared meal with friends or family where you can sample many signature dishes and expand your foodie knowledge? Then you just can't go past Chiangmai Thai! The lovely service, traditional decor, and best Thai dishes will make this an unforgettable evening for all.
Baritalia
Modern Italian dining and a favourite among locals and visitors alike for over ten years, Baritalia Surfers Paradise has so much to offer and won't disappoint. With an alfresco dining setting and contemporary dishes available for breakfast, lunch, and dinner. Whether you are looking for something light, or have worked up a serious appetite, you'll find something that you love at Baritalia.

Epic pizza and pasta dishes are a given, but there is so much more on the menu to choose from. With vegetarian and gluten-free options available, and a family-friendly atmosphere there's nothing getting in your way for enjoying a genuine Italian dining experience in this local hotspot.
Betty's Burgers and Concrete Co
Sometimes there's nothing that can satisfy your appetite like a big juicy burger, and there's nothing quite like the offerings from Betty's Burgers. The classic flavours you know and love accompanied by your choice of sides or salads. You can pair your meal with a thickshake or a selection of beers, wines, or ciders. To finish off you just can't say no to one of the famous 'concretes' - a delightful custard ice cream with tempting flavours such as peanut butter brittle, chocolate hazelnut doughnut, and lemon raspberry cheesecake to name a few.

So which of these culinary delights tickles your fancy most for your Surfers Paradise stay? If you haven't booked your stay yet, check out our self-contained apartments and start planning your Gold Coast getaway!